Bed Jacket from the 1958 Magazine My Home
Three ounces of Lister's Lavenda 2-ply white and two ounces of Lister's Lavenda 2-ply blue
One pair each of UK No 11 and No 7 knitting needles
8 buttons
2 1/2 yards of ribbon
Tension:
Worked at such a tension that two repeats of the pattern of 3 stitches measure one inch in width with No 7 needles.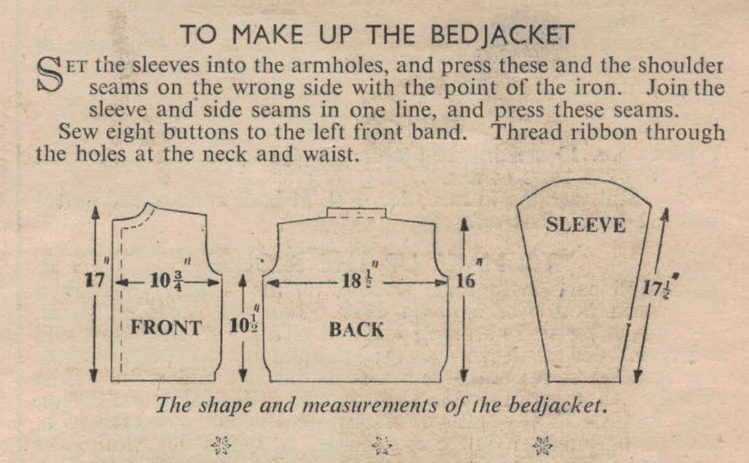 K knit plain; p purl; st stitch; tog together; inc increase (by working into the back and front of the same st); dec decrease (by working 2 sts tog); m make (by passing the wool from the front of the needle over it, and round to the front again, before and after a p st); m 2 make 2 sts (by bringing the wool to the front of the needle and over it, then round to the front and over the needle again, before knitting the next st); sl slip; ms moss stitch (k1 and p1 alternately; and on subsequent rows the sts are reversed); to make a "star" p 3, sl the first of 3 p sts over the 2 end sts and off the needle.
---
This pattern was given to me by my mum. It is from a 1958 edition of the English Magazine My Home.
$1.50